We always say that: The way to someone's heart is through his or her stomach. So everyone likes to make some yummy yet beautiful cakes or desserts for a particular person to celebrate the special day. They also select the cake designs according to their occasions. While it may take much practice to get the best results when decorating cakes, the good news is that now you could make use of the easy-to-use cake toppers from Itopia to decorate your own DIY cakes with features you will find hard to believe. Here is a review of Itopia cake decorations from a loyal user. Becides, we will show you the reason why choose Itopia as the best cake topper supplier as well.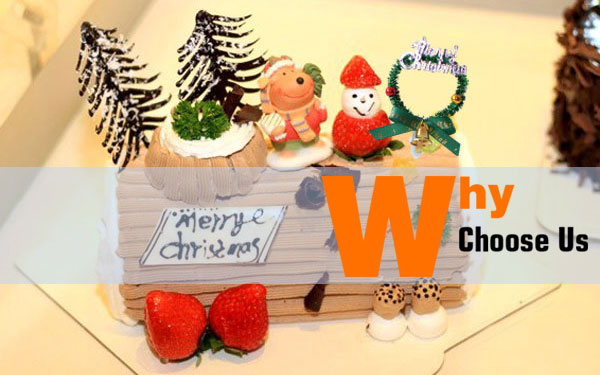 Part 1. Why do you need a cake topper?
Part 2. 10 Reasons Why choose Itopia as Best Cake Topper Supplier
Why do you need a cake topper?
A Cake Topper is a perfect way to add some extra style and color to the sweet cake or dessert. A good cake topper will be a great addition for an engagement party, bridal shower, wedding, holiday - or just about any celebration where you want to spread the love! While it sounds very easy and simple, choosing the right cake topper for this delicate job is the key.
10 Reasons Why choose Itopia as Best Cake Topper Supplier
When going on a quest to find out the best cake topper available on the online market, you may find a number of options. And it can be really confusing to decide on the best one that suits all your needs. To be really honest, here is my experience:
My quest to find out the no-fuss cake ornament solution ended with Itopia products.
It is the best cake accessory supplier available.
And it has creative design while it's simple-to-use.
For example, below is one of my recent cakes. It is gorgeous, right?
Everybody was so excited about the cake. This great Merry Christmas cake topper is suitable for adding a special touch to Christmas cakes and is ideal for a easy, instant decoration.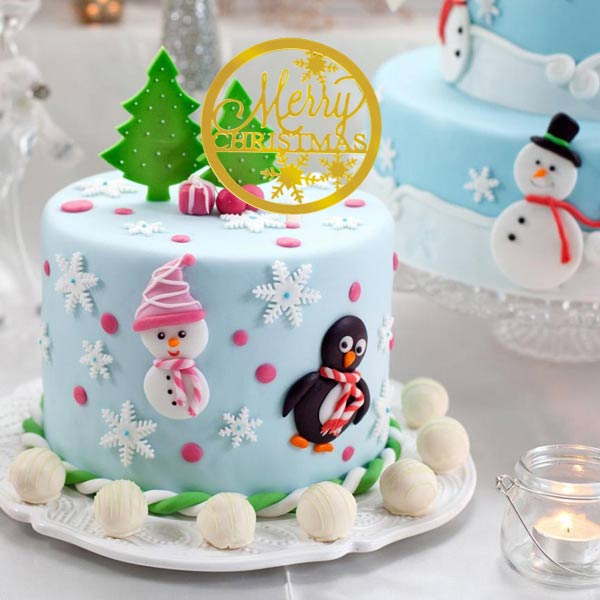 If you're already impressed with the decoration products from Itopia. Sit tight as this is just the beginning. There is a whole lot that Itopia has to offer that you may don't know.
1. All Homemade & Dust-free workshop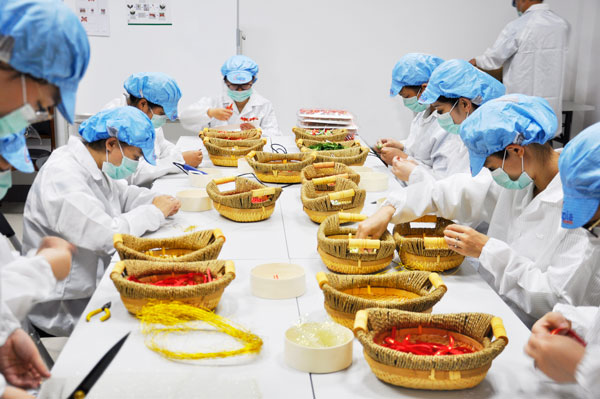 Instead of going with the manufactured goods, the workers from Itopia wanna try something homemade for more personality. So they assemble the components for the cake topper by themselves and glue to something more supportive, which will bring their true love into it as well. Nothing makes them happier than creating something truly special for the clients. Sometimes, even the most simple cake topper can take the cakes to a whole new level of awesome, as long as they have the intention to do it. Right?
At the same time, Itopia is qualified for producing high-quality cake decorating products with dust-free production workshop. Perfect quality inspection and quality control system will make sure that the customers can rest assured that the use of their products.
2. Original Design & Amazing Creation

It is great fun to create the distinctive design for a chic cake topper. There are so many copycat cake toppers, but folks, the one from Itopia is very original design. Itopia has professional and famous designers from Japan and China. They could even transform a simple homemade cake into something super cute with just a few creative designs.
Plus, these cake decorations are absolutely unique. Some of the designs even have become the newest wave of trendsetters, inspiring designers, bakers and everyday people, just like the cup based on a well-known strategy called rubber duck. All the customers of Itopia are waiting for the new designed products since they are always on the cutting edge. Actually, available in a wide variety of styles, Itopia's cake toppers can also be custom designed upon request.
3. Reliable Quality

Itopia uses material with far more durability. The advanced and computerized equipment is able to cut, bend, and diamond-edge polish all products. They tested and made to last over time, so as to provide superior quality. Customer needs are the value of their existence, and solving customer problems is the meaning of their work. 100% QC checked before shipment.
What certificates do they have?
They go the quality assurance certificates like ISO9001, SGS, BRC, TUV, SQI, FAMA, IFS, HACCP CE/EU, LFGB authentication certificates. And they are also FDA approved vendor.
These safety assessments indicate these food contact materials are safe and all can eat them with reassurance. Besides, the best price is guaranteed.
4. Excellent Service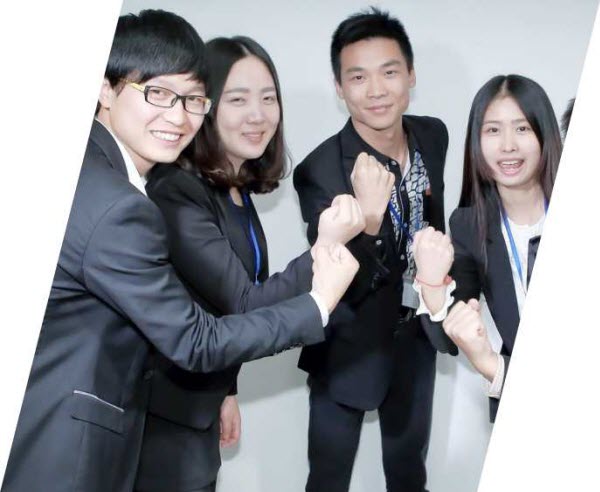 Itopia accepts small order quantity as trial order and provides free sample for your testing once you pay for the shipping fee. They also value your privacy and protect your financial and personal data with full encryption and advanced fraud protection. Knowledgeable representatives are available to assist you through instant live chat and email response within 24 hours. For the refund, all return requests for unwanted items must be made within 30 days of receiving the order. Only sealed, unopened and UNUSED merchandise in its original packaging will be accepted.
5. 100% Customer Satisfaction

Itopia has customers from all over the world. The main market is Japan, The United States, China, Russia, Canada, Saudi Arabia, South America, the Middle East. All this time their mission is 100% satisfaction guaranteed.
Since established, they have received numerous favorable comments. Itopia has expanded from a small, start-up enterprise into a successful on-line business with these satisfied customers around the world. And now they moved the business from Alibaba into the electronic marketplace. Complete customer satisfaction is their top priority, they we work in close contact with clients through all stages of production. Their consultative approach ensures that clients' visions shine through to the finished product.
What's more, they understand the risk of purchasing cake toppers online. And they are transparent in providing product information/description to help customers in their purchasing decision. All the important factors that you need to consider in finalizing this order have been listed online.
6. 12 years Rich Experiences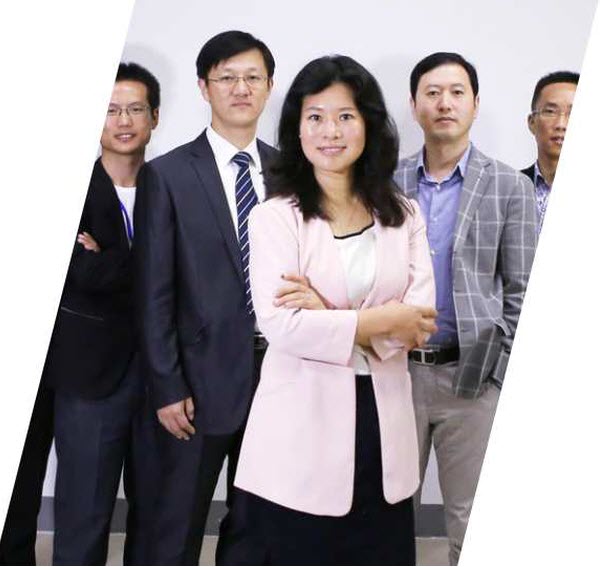 Itopia is a professional cake decoration manufacture with more than 10 years experience. The main production including: ceramic cup, birthday candle, party hat, basket, cake decoration, wedding items, holiday handbag, sticker, ribbon, clip, paper card, cake topper, packaging bag, etc.. There are thousands of different designs. The boss has participated in all kinds of exhibitions, and their creative design staff coupled with the latest technology enables them to offer fresh and exciting products to meet the desire of today's stylish customers. <Learn the history of Itopia>
7. Simplicity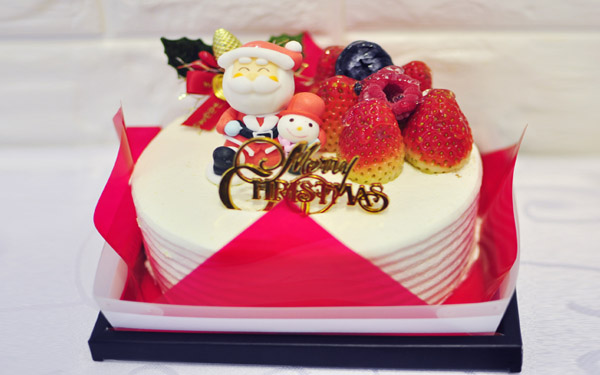 The reviewers almost universally gush over the simple experience of using the Itopia's cake toppers. The often calls it 'easy' 'beautiful' and 'a pleasure to use'. Most ones have resin pick and can be inserted into your delicious cakes or desserts. The steps can be as easy as ABC. These DIY cake toppers are super simple, while really impressive. Besides, they are effortless to clean.
8. Matches any decoration & Multiple use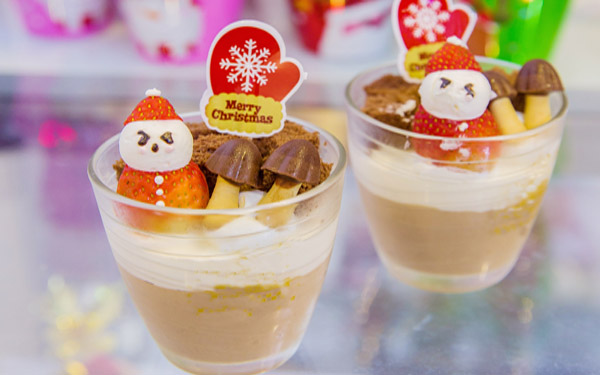 Imagine this…
You are busy preparing materials, buying some models, searching recipes, learning baking skills and sometimes having the decoration ideas to DIY your cake. When can you catch a break? Why do you need to spend time on considering what kind of cake topper you are looking for? Well, picking out that perfect cake topper that matches your decoration doesn't have to be stressful. "It's a piece of cake!"
Luckily, Itopia has token this into account. It recommend you the best selling cake toppers that will stand out as a crowning achievement and also share some suitable items for your occasions to keep you inspired as you plan for the holiday. It just likes a cake decoration trainer nearby to bring you an all-in-one solution. There is always one option that suits you, since Itopia's products could matches any decoration. So much versions! Really, your choices are endless.
And the cake toppers or accessories have multiple use. For example, you choose a cake topper for wedding and you could also put it in your living room as decoration. Also, you could even save some holiday cake topper as a keepsake after the party and display it as a lovely decoration in your home. This could be your best investment ever because it had multiple uses.
9. Support ODM/OEM & Users Customization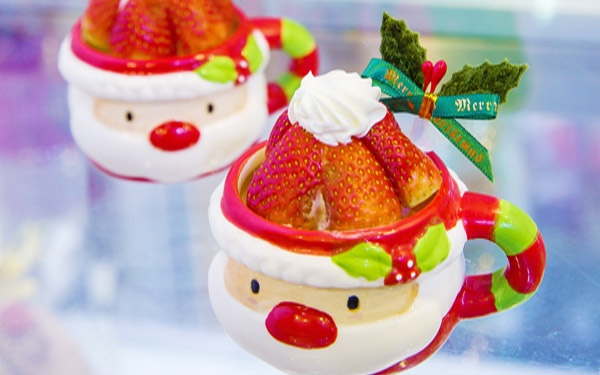 I love Itopia. I've said it 100 times and I'll keep on saying it. It's definitely become an addiction…
You can find literally anything on official site or someone who will make something custom for you. They have experienced designers, according to information given by the buyer, they can paint your company logo, print your brand name on the goods, or add your website, phone number or any of your ideas on the products or on the packaging box... Just tell me your ideas, and let them do it for you.
Itopia accepts OEM/ODM too. If you have own designer, customized design is welcomed. And Itopia could design as per customer's requirements. Proofing can be provided after receiving your design drafts. From a pre-designed cake topper, to a completely custom package or a complete solution, Itopia wants to bring your visions and personality to life.
10. Factory Outlet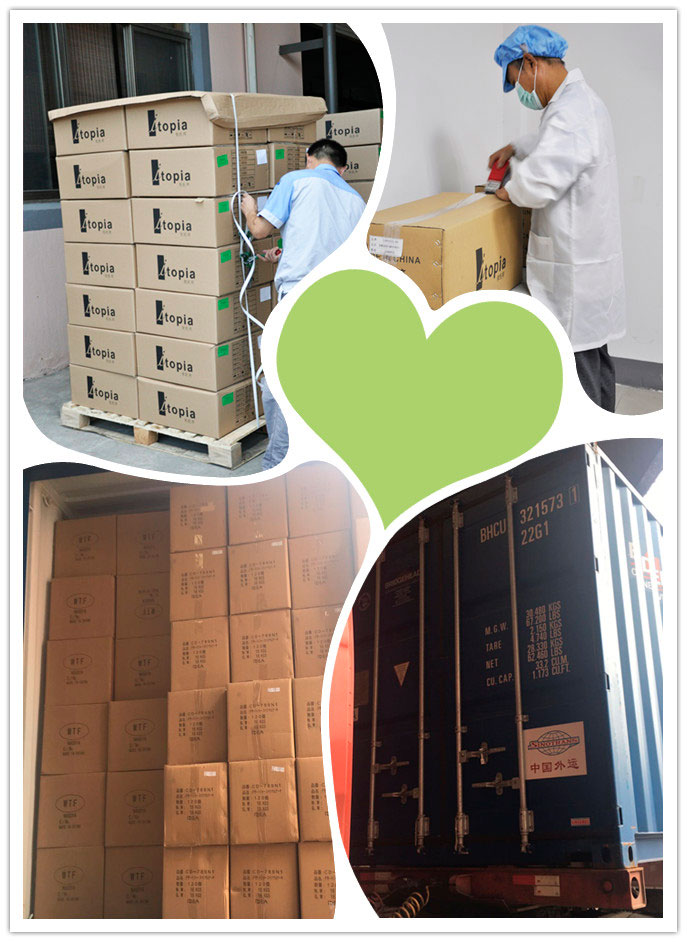 A. Inspection and audit to factory is welcomed.
Itopia was attached to a warehouse, allowing customers to watch the whole production process including the steps below.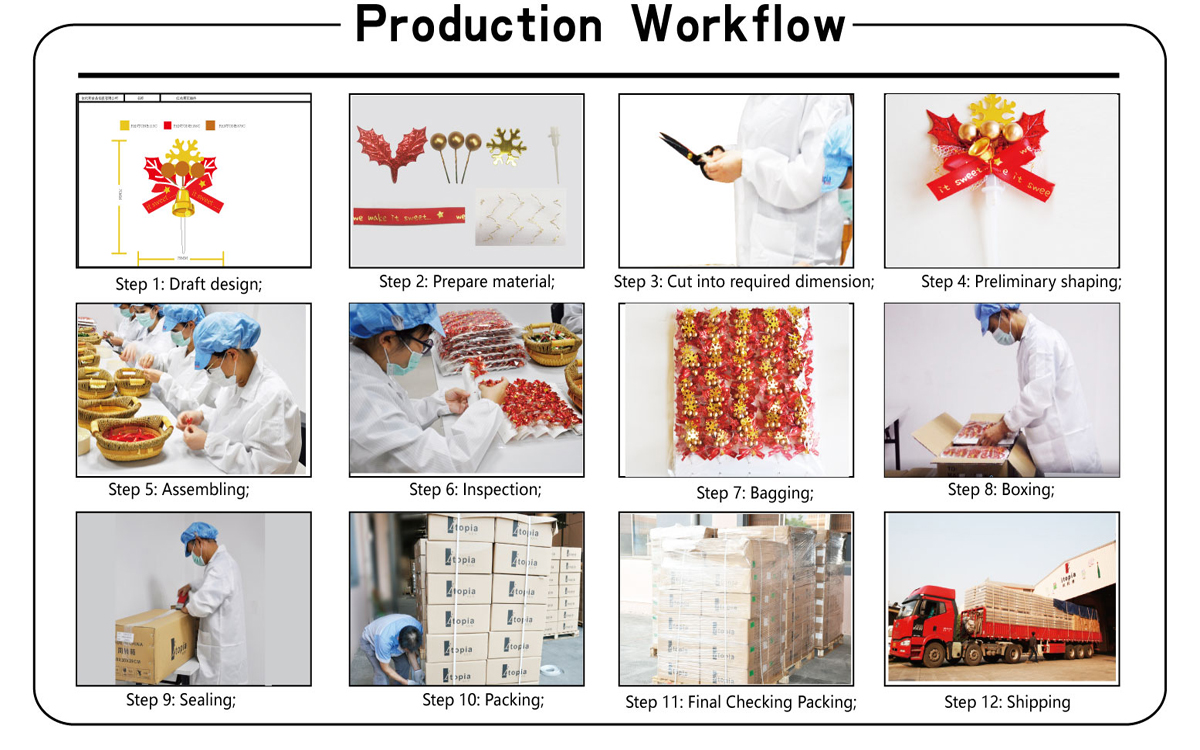 B. Competitive Price
Consumers can usually score good deals from manufacturers. So, many of them will choose factory direct selling. Self-marketing reduces intermediate links, so the price will be more favorable.
Big buyers: They provides the best price, which will not higher than other buyer in your nation.
Wholesaler: A full container goods is more profitable for you.
Retailer: Lower MOQ for stock items is offered to support you. The price will be a little higher, while the MOQ is small. Extra LCL fee is needed. But it's better to reach one full container to save shipping costs.
Summary
In my opinion, Itopia's products is a must-have option for those who don't have enough time and skills for decorating. Quite simply, the specialized products, creativity, high quality, superior service, affordable price and practicability make it a clear winner in its domain.
Don't forget to subscribe to our newsletter and follow us for sneak peeks and fun moments on Facebook or Instagram!